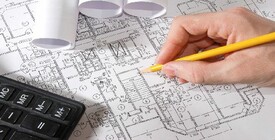 About Us

A Circuit Electric Ltd. has been successfully providing electrical services in the Edmonton area since 1982. Our high quality of standards and track record of completing construction projects and service calls on time and on budget have earned us an enviable reputation. With more than 40 years of experience, our company is known for our professionalism and quality of work. Our experience includes an array of projects including design builds, new project developments, retails stores, restaurants, dealerships, box retail stores, strip malls, office and warehouse designs. We also are able to provide a full commercial service division to our clients.
To learn more, visit our website.

Role

The Electrical Estimator is responsible for reviewing and evaluating drawings including specifications to bid on upcoming electrical projects. While working with internal staff as well as external clients such as but not limited to engineers, general contractors and subcontractors to ensure all requirements and needs are met in a timely manner. Ensure all bids have been submitted appropriately and the estimator has done research or achieved clarification for any questions that may arise in order to complete the bid.
The role requires an individual who shares our company values, who is passionate about delivering exceptional customer service and is excited to help us tackle challenges to succeed in our business.


Qualifications

Required Education & Certifications:
High School Diploma or related post-secondary education;
Class 5 driver's license and a clean driver abstract;
Journeyman electrician certificate.


Required Experience, Knowledge & Skills:
2-3 years of working electrical estimator experience;
Minimum of 5 years of electrical trade experience;
Proficient in academic and practical knowledge of the Canadian Electrical Code;
Proficient in Microsoft Office specifically in Word, Excel and Outlook;
Strong problem-solving skills;
Excellent written and verbal communication skills;
Advanced collaboration, relationship building skills, and ability to maintain strategic relationships with internal staff and external clients;
Advanced understanding of estimating principles and processes.


Assets:
Excellent organizational skills and strong attention to detail;
Ability to work well under tight deadlines and pressure;
Experience with BidWinner and Accubid application;
Ability to perform mathematical calculations;
Strong work ethic and positive attitude;
Ability to work well in a team environment as well as independently;
Experience in customer service;
Possess a high level of integrity and is self-motivated;
Experience with reporting and estimating;
Excellent decision-making skills;
Red seal electrical certification;
Master electrician certification.
Salary
$70,000 - $90,000 year

Notes
This position is based 90% in the office and 10% in the field. You may be required to work weekends and outside of regular office hours occasionally dependent on workload.


Hours of Work
Full-time position – 40 hours a week, Monday to Friday.


Location
A. Circuit Electric Ltd is located on 16321 130 Avenue, Edmonton, Alberta, T5V 1K5.


How To Apply
If you are interested in joining the A. Circuit Electric family of employees, please send your cover letter and resume to careers@acircuit.ca, Please also label the subject line Electrical Estimator Application.

Applicants are advised to provide information that clearly and concisely demonstrates how their qualifications meet the advertised requirements, including education and experiences. If you have any questions or concerns, please contact us at 780-451-4441 ext. 4.
Closing Statement
We thank all applicants for their interest. All applications will be reviewed to determine which candidates' qualifications most closely match the advertised requirements. Only individuals selected for interviews will be contacted.


Closing Date: September 20, 2022