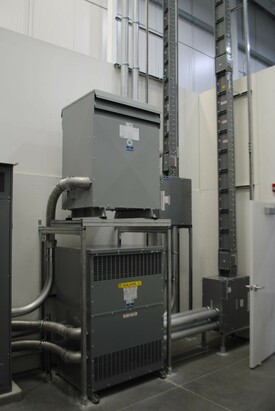 About Us
A Circuit Electric Ltd. has been successfully providing electrical services in the Edmonton area since 1982. Our high quality standards and track record of completing construction projects and service calls on time and on budget have earned us an enviable reputation. With more than 35 years of experience, our company is known for our professionalism and quality of work. Our experience includes an array of projects including design builds, new project developments, retails stores, restaurants, dealerships, hotels, strip malls, office and warehouse designs. We also are able to provide a full commercial service division to our clients.
Position Description
The Electrical Foreman is responsible for leading an electrical crew on commercial construction sites. Their primary role is to ensure planning, laying out, installing, and wiring electrical components are completed, as per project drawings, specifications and in accordance with applicable electrical codes. This position will oversee the work and job performance on sites and will ensure ongoing attention to work-site safety, standards, and legislation are met. A key component of this position will be troubleshooting and providing exceptional service to all of our customers.
The role requires an individual who shares our company values, who is passionate about delivering exceptional customer service and is excited to help us tackle challenges to succeed in our business.
Job Duties & Responsibilities
Manage a crew of 10 - 15 Journeymen and Apprentices;
Read and interpret drawings, blueprints, schematics and electrical code specifications to determine layout of electrical equipment installations;
Install, examine, replace or repair electrical wiring, receptacles, switch boxes, conduits, feeders, lighting fixtures and other electrical components;
Test electrical equipment and components for continuity, current, voltage and resistance;
Maintain, repair, install and test switch-gear, transformers, switchboard meters;
Troubleshoot, maintain and repair, electrical and low voltage control systems and other related devices;
Arrange and coordinate safety meetings;
Delegate tasks and responsibilities to crew members;
Be the point of contact with the general contractor's site superintendent;
Supervise and train apprentices on the job, as required;
Maintain a safe work environment by adhering to all company guidelines and OSHA safety requirements and also through reporting violations of policies, procedures and guidelines to immediate supervisor;
Controlling inventory on truck, job-site, and in/out of stock (for active jobs);
Organize and maintain material lists for your crew;
Gathering required material;
Responsible for maintaining company tools;
Inspect jobs upon completion and ensure areas are clean;
Work with building principals and supervisors to complete projects;
Detect needed repairs on buildings, grounds, and equipment following established inspection procedures;
Respond to emergency calls as needed;
Other duties as assigned.
Qualifications
Required Education & Certifications:
Licensed Journeyman electrician;
First Aid Standard Level;
AWP Aerial work platform;
Fall Arrest and/or Fall Protection;
Class 5 drivers license and a clean driver abstract.
Required Experience, Knowledge & Skills:
4 – 5 years of experience in a commercial setting as a Lead Hand Journeyman Electrician carrying out electrical tasks associated with installations and maintenance in commercial or service settings;
Proficient in academic and practical knowledge of the Canadian Electrical Code;
Proficient at bending conduit;
Experience in troubleshooting electrical equipment and systems;
Experience planning and carrying out electrical construction tasks in a team environment;
Experience working with and maintaining various fire alarm systems;
Experience performing work on power distribution systems;
Experience interpreting blueprints and specifications;
Experience completing underground electrical work;
Proven track record of leading by example and providing exceptional guidance to crew;
Ability to form material lists;
Candidates must be comfortable working at heights;
Good troubleshooting skills, repair abilities and installation skills;
Able to work in high pressure, time sensitive conditions;
Attention to detail;
Strong communications skills and customer service orientation;
Strong work ethic and positive attitude;
Ability to supervise others' work and coach for performance.
If you are interested in joining the A. Circuit Electric family of employees please send your resume, cover letter and any other applicable information to careers@acircuit.ca. 
Walk-ins will not be considered.